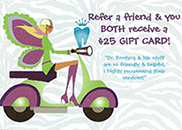 The greatest compliment you can give us is the referral of family & friends.
Each time you refer a friend & they join our practice, you BOTH receive a $25 Gift Card.
---
Welcome to Fontana Dental!
We are excited to welcome you to our practice and look forward to helping you achieve your dental health goals. Dr. Fontana, and the team at Fontana Dental, take pride in providing both professional dental care and in creating a positive experience for all our patients. We will always strive to exceed your expactions in regard to the quality of our dental care and our high level of patient service.
We're not your ordinary dental office. From complete smile makeovers to routine oral health maintenance, we provide the most up-to-date proven, treatment options and services, in addition to continually seeking out the latest technological advances in dentistry. We truly love what we do and are confident you will see the difference.
Dental Trivia:
Children begin to develop
their primary teeth 6 weeks
after conception while in
their mother's womb.

The mammal that has the
most teeth is the Long
Snouted Spinner Dolphin,
with 252 teeth
The average human produces 10,000 gallons of saliva in a lifetime. That's enough to fill 2 swimming pools!
---
We offer a variety of Services:
We look forward to providing you the individualized service you require.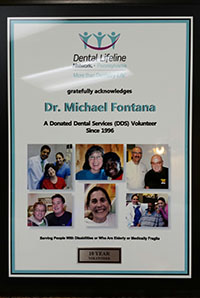 Dental Life Network (DLN)
Dr. Michael Fontana is a volunteer for Dental Lifeline Network (DLN), a national non-profit organization whose mission is to improve the oral health of people with disabilities or who are elderly or medically fragile. Dental Lifeline Network provides access to dental care and education for people who cannot afford it.
*If this sounds like something that fits your needs, please be sure to visit http://dentallifeline.org.
NEW PATIENTS ALWAYS WELCOME!
For your convenience we accept Master Card, Visa, American Express and Discover. Financing through CARE Credit is also available.


What our patients have to say...
I went to Dr. Fontana after going to 2 other dentists. I was very nervous because I knew I had a LOT of dental work that needed done. Never in my life have I been treated so nice in a dental office before. The entire staff made me feel like part of their family. Now my dental work has been complete but I cant wait to arrive for my cleanings and chats. They are no doubt one of a kind!
- Dee Kennedy