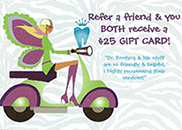 The greatest compliment you can give us is the referal of family & friends.
Each time you refer a friend & they join our practice, you BOTH recieve a $25 Gift Card.
Confidence...
With Fontana Dental, YOU will be happy with all the conveniences of having your dental needs met with professional and personalized service by a caring staff.
Your SMILE is the first thing people see. It exhibits health, beauty and CONFIDENCE.
Our goal is to provide you with many services that will give YOU the smile you have wanted and deserve.
We offer a variety of Services:
We look forward to providing you the individualized service you require.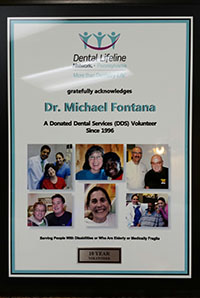 Dental Life Network (DLN)
Dr. Michael Fontana is a volunteer for Dental Lifeline Network (DLN), a national non-profit organization whose mission is to improve the oral health of people with disabilities or who are elderly or medically fragile. Dental Lifeline Network provides access to dental care and education for people who cannot afford it.
*If this sounds like something that fits your needs, please be sure to visit http://dentallifeline.org.
NEW PATIENTS ALWAYS WELCOME!
For your convenience we accept Master Card, Visa, American Express and Discover. Financing through CARE Credit is also available.


What our patients have to say...
I have never enjoyed going to the dentist prior to meeting the amazing people at Fontana Dental. My children have gone here since age 2 and LOVE them! I cannot say enough good things about this amazing company!
- Christie Freeman Yasofsky